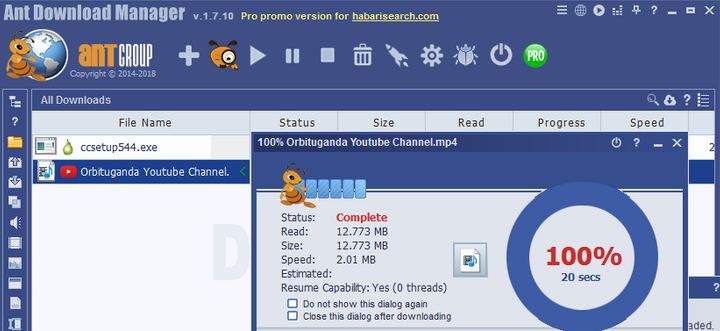 This giveaway has expired. You can however get a free version of this program with limited features, better still the pro version from the publishers website.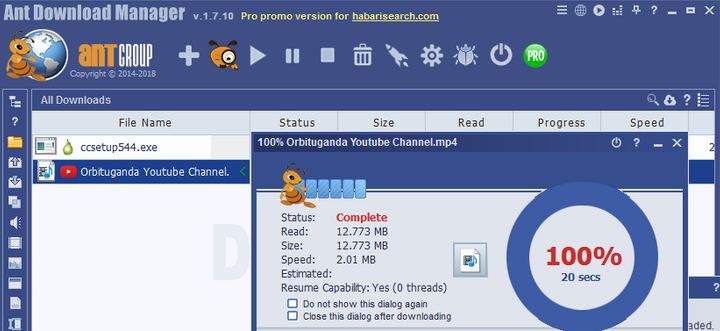 Ant Download Manager & Video Downloader Giveaway is a fast and simple downloader of any Internet files with the advanced function of downloading media content.
Main Features
Full integration in most popular web browsers, including Internet Explorer 8+, Mozilla Firefox 32+, Google Chrome 31+ and their clones ( Pale Moon, Opera, Vivaldi, Slimjet, ComodoDragon, etc.).
Built-in video grabber browser allows you to download videos from many sites and video services, including youtube.com, vimeo.com, dailymotion.com, facebook.com, instagram.com, vine.co, bbc.com and many others.
Download Speed Acceleration
Supports network HTTP(S), FTP(S) and stream media F4M, M3U8, MPEG-DASH, RTMP(x), VIMEO-STREAM protocols.
Download resumption
Supports proxy HTTP(S), FTP, SOCKS4,5.
Audio extraction to mp3 when downloading video
Downloaded file categorization according to mime
Multilingual: Currently available: Arabic, Chinese (Simplified and Traditional), German, Greek, English, Korean, Spanish, French, Hungarian, Italian, Dutch, Polish, Romanian, Russian, Slovak, Turkish, Ukrainian, Slovenian, Farsi, Portuguese (Brazilian).
More on =>> publisher's website
System Requirements
Windows(x32/x64) Vista, Win 7, 8, 10
Google Chrome or clones: Opera, Vivaldi, Slimjet, Comodo, etc.
Internet Explorer 8+
Mozilla FireFox or clone: Pale Moon
Price
The pro version normally costs $10,95 (1 year license) or $22.50 (lifetime license) and has all the features mentioned above with free updates and priority support, but you will get it free on this site.
Terms and Conditions
All guests can download and install this version up to 20th July 2018. The only limitations are:
No free updates to the current version 1.7.10, otherwise the giveaway may become unregistered, meaning loosing Pro features.

To prevent this, simply go to settings (config) and unselect "Check for updates", or if a pop-up showing an available update prompt comes up, simply do not update, or cancel it.

You must download and install the giveaway before this offer has ended
Download Ant Download Manager & Video Downloader Giveaway
To make use of this giveaway download go to >> AntDM.1.7.10 Promo habarisearch << and install it latest 20th July 2018. Within this time, a special promo version for HabariSearch will get automatically activated.
Read Ant Download Manager: A Quick Review and Tutorial right on this site.
Installation video from publisher
Ant Download Manager & Video Downloader Giveaway