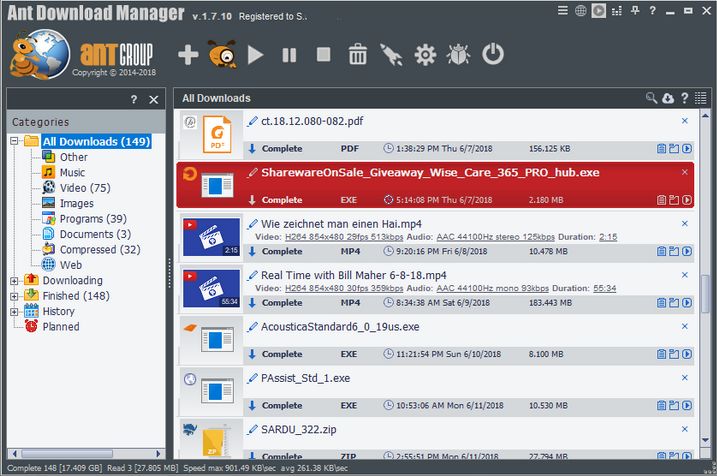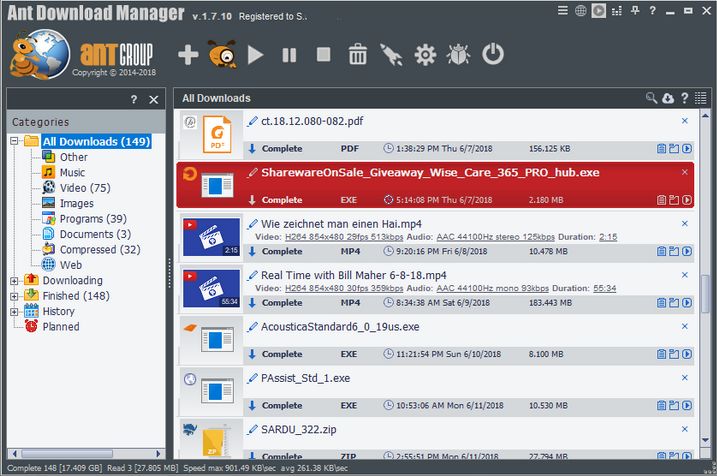 What is a download manager?
This is a computer program, whose main task is to help download files from the internet to your local computer. It is more specialized than a browser and has features that these do not have. A good download manager should at least
be able to accelerate download speed to a factor of several times, up to 600%, as claimed by some. This is often achieved by splitting a file in in several segments and using several simultaneous connections
allow pausing and resuming downloads, if the server allows this. This can be crucial if you are downloading large files of several hundred megabytes or gigabytes and get interrupted. You do not have to start from the beginning again, as would be the case in Firefox or other browser.
allow grabbing video or audio from popular sites, such as Youtube or Vimeo and be able to convert this to other formats
There are quite a number of download managers, some free, some commercial and they have varying features and ease of use.
Ant Download Manager
Such a download manager is Ant Download Manager, which is a commercial product. They also have a free version, which for the first month allows using all features, which are then reduced.
Installation and use
Once you download and start installing, you determine the destination folder, which includes deciding the folder where downloads will go, unless you accept the suggested defaults. When you first run the program, it shows you in a pop-up how to enable its extensions in diverse browsers, so it can monitor and capture downloads. You need to manually enable the ADM add-on or extension (AntFF in Firefox, DLHelper in Chrome, etc)  in the respective browser settings.
If you go to our Youtube Channel www.youtube.com/orbituganda and want to download say Abdoulie's Jollof Rice 2 recipe video, you will note if using Firefox, that there's small pop-up "video box", which opens up and  lists downloadable videos on that page. In other browsers like Google Chrome or Opera, the box showing downloadable media is within the browser window, usually just above the video.
In our case, we select the second option (2 Download – green arrow), which opens a further window. This lists the options you have, beginning with MP3 Audio (orange arrow). This would convert what you download to MP3 audio only and would be more relevant if you want MP3 music from a music video.

You have other formats, as well as different resolutions. The best available video quality here is 1080p in MP4 format, but it is also the largest in MBs (381MB), which is no problem if you have a fast broadband connection. You can of course select lower resolutions, which give you smaller files, which are also faster to download.
The download is fast, at least much faster than in your browser, but this is ultimately determined by your internet connection speed. If you go to any supported site page with downloadable video content, such as this => Abdoulie's Jollof Rice 2 on this website, you will note the video shown in the video box of the used browser.
Although this example shows downloading a Youtube video, Ant Download Manager will also capture audio, if you are on a site offering audio content, such as https://www.npr.org/podcasts/510208/car-talk and choose to start one of the podcasts. Many, but NOT all video / audio sites are supported.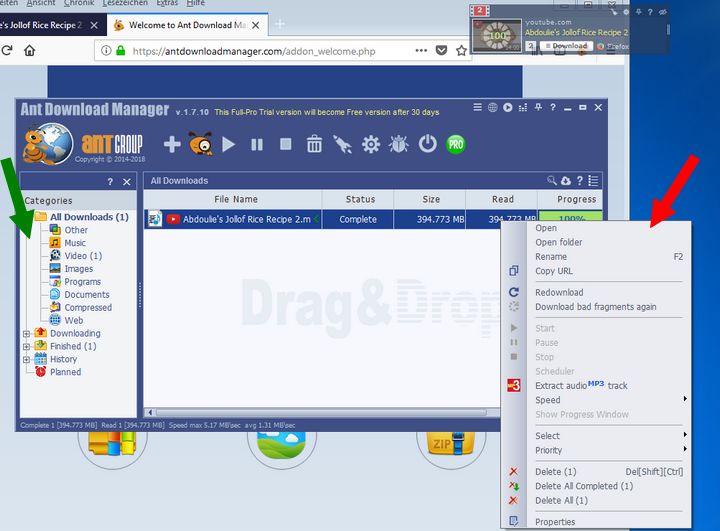 Ant Download Manager will also capture other downloads you initiate in the browser and will categorize them into Music (MP3, MP2, OGG, AAC, M4A, WMA, WAV, etc), Video (AVI, MPEG, MP4, FLV, MPG, etc), Programs (installation files), Documents (pdf, doc, docx, etc), Compressed (zip, tar, gzip), Images and so on.
By going to Ant Download Manager main window, you will see an overview of your downloads and have a number of options if you right click any particular download, including open, accessing the location folder, delete and so on. For an already downloaded video file, you can extract MP3 audio.
Main Features
Full integration in most popular web browsers, including Internet Explorer 8+, Mozilla Firefox 32+, Google Chrome 31+ and their clones ( Pale Moon, Opera, Vivaldi, Slimjet, ComodoDragon, etc.).
Built-in video grabber browser allows you to download videos from many sites and video services, including youtube.com, vimeo.com, dailymotion.com, facebook.com, instagram.com, vine.co, bbc.com and many others.
Download Speed Acceleration
Supports network HTTP(S), FTP(S) and stream media F4M, M3U8, MPEG-DASH, RTMP(x), VIMEO-STREAM protocols.
Download resumption
Supports proxy HTTP(S), FTP, SOCKS4,5.
Audio extraction to mp3 when downloading video
Downloaded file categorization according to mime
Multilingual: Currently available: Arabic, Chinese (Simplified and Traditional), German, Greek, English, Korean, Spanish, French, Hungarian, Italian, Dutch, Polish, Romanian, Russian, Slovak, Turkish, Ukrainian, Slovenian, Farsi, Portuguese (Brazilian).
More on =>> publisher's website
System Requirements
Windows(x32/x64) Vista, Win 7, 8, 10
Google Chrome or clones: Opera, Vivaldi, Slimjet, Comodo, etc.
Internet Explorer 8+
Mozilla FireFox or clone: Pale Moon
Free vs Pro version
The pro version currently costs $10,95 (1 year license) or $22.50 (lifetime license) and has all the features mentioned above with free updates and priority support. The free version, after a 30 day trial has features reduced to 3 threads per download, meaning lower download speed and for video, only up to a resolution of 360p. If video is not your target, that should not matter and you are all the same better off than using a browser.
What we think
We think the AntGroup's Ant Download Manager is an excellent, user-friendly, reliable utility that allows you to organize and keep track of your downloads, worth trying out.
Installation video from publisher
Ant Download Manager: A Quick Review and Tutorial