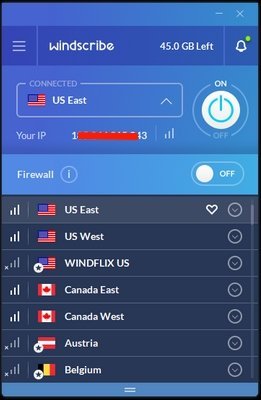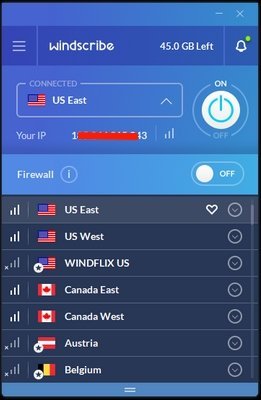 What is Windscribe VPN?
Windscribe VPN is described as a desktop application and browser extension that work together to block ads and trackers, restore access to blocked content and help you safeguard your privacy online.
Have you ever wanted to watch some video on Youtube like a Saturday Live Night clip, some US network or may be watch a live stream of the German Bundesliga football match you know is being streamed live and free on ZDF or ARD public TV website, but get the message, sorry you cannot access this or that from your location/country or some similar but unhelpful message, or you discover Facebook or Youtube are blocked, even if you have the correct internet address?
2GB or 10GB/mon free!
A VPN program like Windscribe VPN is just what you might need. The problem is most of these programs are not free or offer some limited use of 500 MBs or if you are lucky up to 2GB/month.
2GB may be OK if you do not surf much or just read stuff. If you however listen to online audio or especially watch video, that will be used up much faster. Even 10 GB is not a lot for video, but you can view a couple that may be otherwise blocked for your location.
Windscribe has paid plans of $4.08/month for the yearly option with unlimited bandwidth, which you can of course choose if you can afford it. If you merely install the 13.6MB file, you will be asked if you have an account. If you have none you have the option to create one. A username and password are required.
If you do not opt for providing the email, you get this alert message:
If you do not provide an email, you will only get 2GB of data per month, and you will not be able to reset your password!
Better still, if you submit the optional email address and authenticate it, which would mean receiving some occasional ads, a small price to pay, you get 10,000GB per month,  starting the day you activate. Once this is used up for that month, it will be reset to 10 GB for the new month. I am not aware of any VPN software that generous.
You have nothing to lose getting 2 or 10GB/month, especially if it's free and you can access a blocked sites in some countries.

Windscribe is available for desktops, web browsers, mobile devices, routers, plus devices that support VPN/proxy protocols.
Getting and using Windscribe VPN
If you signed up for the 10GB or the paid plans, you can use it on other devices like your Android phone by installing the app and logging in, requiring signing up before and having log in credentials. I use Windscribe on Firefox & Google Chrome, by installing the respective add-ons and and logging in. The monthly data usage applies to the account not gadget. That means if you install and use it on different devices, you can login, but your total transfer is monitored. You of course have the option to use additional user accounts for different gadgets. The advantage of the browser-addon version is only its traffic is relayed via Windscribe servers.
For Desktops, you can get the about the 16MB file (Windows) from https://windscribe.com/download.
You will note on the download page that Windscribe VPN Client is available to different operating systems including Windows, MAC, iOS and Linux to name some and also a whole range of browsers.
On first run for the desktop version, you are asked if you already have an account. You are then prompted to sign up and provide a username and password, which are required. An email address is optional.
If you choose to provide your email address, though and authenticate it, you get a generous 10GB/month. If not just 2GB.
To economically use your monthly data allocation, set the Windscribe client to NOT to start with Windows, but to be started manually. Unless you have the paid plan, you have a limited number of country locations to choose, including a number in USA, UK, Germany, etc. The difference between the browser-addon version and the desktop client is the later takes over the whole internet traffic for that session the client is running, whereas the browser only determines the connection for that specific browser. One can always disable the browser-addon or simply close the desktop client.
Video: Windscribe: How to Get Started (Windows)
Windscribe VPN 10GB Free Traffic Every Month