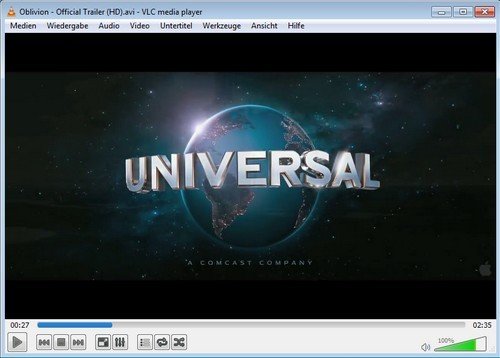 The VLC Media Player is an all-rounder. It plays just about any video & audio format there is, streams and converts media from one format to another. It is cross-platform, meaning it is available for not only different Windows versions, but for Linux, Mac, Android & other platforms. Best of all, it is free. This is how the official site describes it:
VLC is a free and open source cross-platform multimedia player and framework that plays most multimedia files as well as DVD, Audio CD, VCD and various streaming protocols.
You have probably one time wanted to play some video files and Windows media player cannot play it because of some missing codecs, requiring you to go to different sites to get them. This player comes with almost all. See this page for all the features:http://www.videolan.org/vlc/features.html. It can even play incomplete/broken video/audio files, … It will play flash files you may have downloaded from Youtube or similar sites to your PC & have no stand-alone flash player. Some of the formats it plays: AAC, AC3, ASF, ANNODEX, AVI, CREATIVE VOICE, DTS, DVB, FLAC, FLV, MIDI, MKV, MOV, MPG, MPEG (ES, MP3, MP4, PS, PVA, TS), MXF, MIDI, NUT, OGG, OGM, Real (RAM, RM, RMVB, RV), RAW DV, SVCD, WAV, WMA, WMV, 3GP and a lot more.
You can also run several instances of the VLC player, playing different files on the PC at the same time, without the PC complaining & telling you the application is already running. 😉
Get the VLC Media Player
You can get this for your Windows or other platform from http://www.videolan.org/ [just 20MB]. I like using the portable version, i.e. which can be installed on & run from a USB flash drive from http://portableapps.com/apps/music_video/vlc_portable.
Alternatives
There a number of alternative players available, including the 2 examples:
More on this in another article.
Best Free Software 06: VLC Media Player