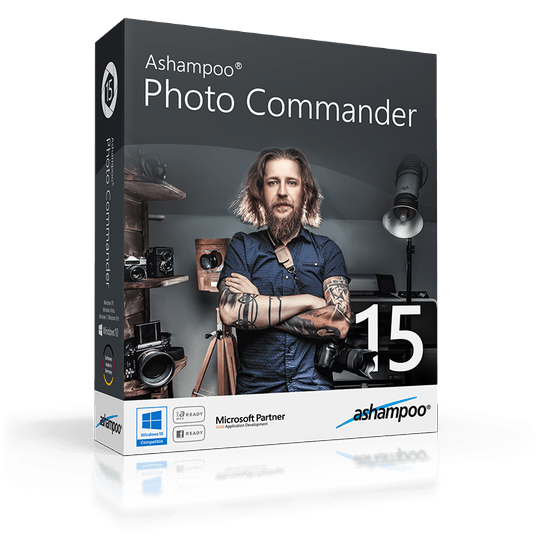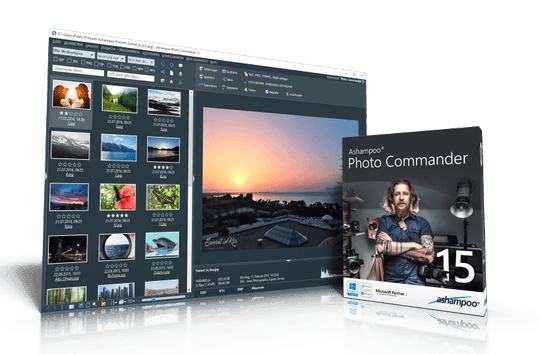 The new Ashampoo Photo Commander 15 Giveaway is the universal solution to view, edit and organize your photos. For this new version, the emphasis was on bringing order to even the largest photo libraries, aside from classic sort options this latest edition now also supports geotagging. The program allows users to add and process geotags, turn them into latitudes/longitudes, countries, city and streets and even display them on a map. The new presentation mode works across separate devices (e.g. monitors and beamers) and allows you to control the presentation on a separate device. Batch processing allows you to carry out extensive image optimization and conversion operations for multiple images in a row and you can now even export and import your settings for easy reuse. More than 50 new features and enhancements across the board have also been added.
Features at a glance
A new kind of order: geotagging
More options, more brilliance, more comfort: The new presentation mode
More powerful: Over 50 new features and enhancements
Edit images creatively with filters and effects
Automatic and manual image optimization
Manage huge collections comfortably with extensive filtering and grouping features
Produce slideshows with individual music and sounds
Create cards, frames and vignettes
Create calendars, HTML albums and collages with ease
Convert between all common image formats
Control everything on one display and present it on another
Save dialog with various useful settings
System Requirements:

Windows 10, Windows 8 / 8.1, Windows 7
Any computer that supports the above operating systems.
Microsoft Visual C++ 2013 x86 Re-distributable
Graphic card:

1280×1024 – 100%
600×1200 – 150%
2048×1536 – 200%
2560×2048 – 250%

An Internet connection is required to activate the program. The program license is verified repeatedly at regular intervals.

Publisher:
Ashampoo GmbH & Co. KG
Homepage:
https://www.ashampoo.com/en/
Product Website:
Ashampoo Photo Commander 15

Version:
15.1.0
File Size:
315,42 MB
Price:
$0.00 for the full version for our visitors. (Original price: $39.99 )
Languages supported:
British English, Chinese (simplified), Chinese (traditional), Czech, Danish, Dutch, English, Finnish, French, German, Greek, Hebrew, Hungarian, Italian, Japanese, Norwegian, Norwegian Nynorsk, Polish, Portuguese, Portuguese (Brazilian), Rumanian, Russian, Serbian, Serbian, Slovakian, Slovenian, Spanish, Spanish (Argentina), Swedish, Turkish
Download:
Download Ashampoo Photo Commander 15 Giveaway
Activation:
During installation, you will get a pop-up window where you are asked to insert a key. There is an option to get a free license key, which requires a valid email address. After authenticating your email, you have the option to create a free Ashampoo account, which you can use later for similar giveaways or purchases. You will also get a free full version license key, which you can use to complete the installation. The advantage of registration is you can access your key later, in case you need to re-install the software.
Put back the fun into your photos – with Ashampoo Photo Commander 15
Ashampoo Photo Commander 15 Giveaway