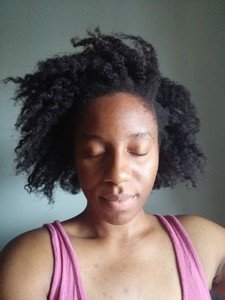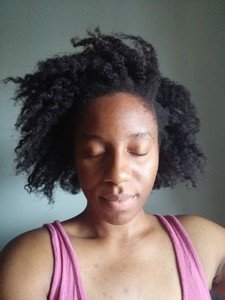 While everyone should take good care of their hair, African-American hair requires extra care and attention. African-American hair grows more slowly, contains less water, and breaks more easily than Caucasian and Asian hair. Whether you have natural or chemically-treated hair, this article will show you how to care for and style African-American hair so that your hair is healthy and always looks its best.
Steps
Determine whether hair is in its natural state or relaxed (chemically-straightened). Because both states have different care and maintenance needs, it is important to choose the right products for your hair and follow an appropriate beauty routine. If you're a male, you will also need to follow different guidelines. Styling basics for natural or chemically-treated hair African-American hair comes in a variety of textures, ranging from kinky, coarse, to straight. Taking care of your natural hair is the foundation for a healthy and beautiful hairstyle.
Wash and condition hair using high-quality products formulated for your hair's texture – not your skin's color.

It is important to wash your hair every 10 to 14 days as unhealthy bacteria can grow on scalp and cause dandruff and scalp infections. To prevent moisture loss, use a moisturizing shampoo and conditioner. Look for natural moisturizers in the ingredients list, such as shea butter and olive, avocado, argan, coconut, and jojoba oils. If you have chemically-treated hair, makes sure you use products developed for this kind of hair.
Avoid shampoos and conditioners that contain parabens, phthalates, or petrochemicals. Beware common ingredients such as sodium laurel sulfate or sodium laureth sulfate as these are basically detergents that will strip moisture from your hair. Not only are these harsh chemicals bad for your hair's health, but recent students have suggested that your body can absorb these toxins when they come in contact with your scalp.

As you wash and condition the hair, keep it from becoming tangled. Do this by gently shampooing hair at the scalp and not on the strands, and allow shampoo to wash down the length of your hair as you rinse. When applying conditioner, apply to strands rather than the scalp to make sure conditioner is thoroughly rinsed. Let your hair absorb conditioner for two to three minutes before rinsing (check the directions on conditioner bottle) to ensure your hair reaps its benefits.

Never rub a towel against the hair. This will result in frizz and damage. Gently pat the hair with a towel to stop the dripping. Microfiber towels work best.
Comb through hair with a wide-toothed comb while hair is damp. When hair is damp/wet it is very fragile, so be gentle when you comb it. Use a spray bottle filled with water to re-wet hair if needed as dry hair is more difficult to manage and detangle.
Starting at the nape of the neck and working your way toward the forehead, part hair using the end of a "rat-tail" comb or your fingers, whichever you choose, into 2-inch by 2-inch square sections. Gently comb each section to detangle it. Apply a very small amount of your favorite hair oil to each section as you comb it. The hair will divide into 15-20 medium sections depending on the thickness and length of hair. Continue doing this to the rest of the sections then let the hair air dry, or blow-dry it.
Working with chemically-treated hair Perms, hair relaxers, and hair color products are a great way to enhance your style, but remember that chemicals weaken your hair. In order to ensure that your hair stays healthy, it is important to follow a beauty routine that nourishes and strengthens your locks.
Do not over-process your hair. While it is tempting to reapply relaxer each time you visit your salon, you need to go five to six weeks before having another touch-up. Do not get your hair colored the same day you apply or reapply relaxer as this will weaken your hair.
Limit use of the blow dryer, curling iron, or flat iron. Using these tools everyday will weaken your hair follicles, and your hair will lose its sheen and will be more susceptible to breakage.
Make sure you use a restorative hair treatment (hair mask, leave-in conditioner,or hair oil) to combat damage caused by chemicals and heat.
Hairstyles for African-American hair
Browse fashion magazines and websites to determine what kind of hairstyle you want, and consult with your hairstylist. Make sure your find a stylist who specializes in your hair's texture and follow his/recommendations for maintaining your style. Some popular styles include:
Natural hair

Dreadlocks are fashionable and work well for both men and women. When caring for dreads, make note of the following tips:

Shampoo and condition your hair every three weeks using products designed for dreadlocks. To combat growth of bacteria between washings, wipe dreads and scalp with an astringent-soaked cotton ball or pad.
Don't use a comb! It causes breakage; instead use your fingertips as a comb to lock hair.
Moisturize locks using natural oils or oil-based products. Wrap your locks in a satin cloth while you sleep to maintain moisture.

Weaves/Extensions refer to techniques where artificial hair is added to natural hair to improve natural hair's appearance and combat hair loss in certain areas. Hair weaving and extensions are performed by professionals and can be completed in one appointment. Weaves can completely alter your look, and you can use them for short, medium, and long hair styles. Furthermore, because they don't contain harsh chemicals, they will not damage your hair.

Natural and chemically-processed hair

Braids- Braids are especially popular and accentuate natural hair (if you have relaxed hair, make sure you consult with a professional before braiding hair); they come in a variety of styles and can be done at home or at a salon. Make sure to oil hair once a week to protect hair, and get regular touch-ups at the salon to ensure braids always look their best. Both men and women can wear braids. These are some of the most popular styles: cornrows; micro and box braids;plaits; braided buns; and kinky twists.
Styling tips for men
While men can follow the same shampoo and conditioning routines as women, men's hair has different maintenance needs. African-American men sometimes have trouble growing their hair out as African-American hair is often dry, brittle, and curly. However, here are some tips to care for and style hair.
Avoid chemical treatments. Relaxers slow hair growth for African-American men.
Condition everyday, and deep condition once a week. Remember to use lukewarm or cold water when you rinse your hair as hot water dries out hair and makes it brittle.
Stay away from heat. Heat from blow-dryers, flattening irons, and other appliances weakens your hair. Avoid whenever possible, and, if you need to use them, make sure you apply protective and restorative products before and after use.
Watch your diet. Healthy hair comes from within, and you should make sure your diet includes vitamin B, folic acid, and protein – all of which help maintain healthy hair.
Show off your healthy hair. Consult with your hairstylist to determine which hairstyle suits you.

Don a well-coiffed afro to achieve a vintage, rock-star chic look.
Short dreads are easier to maintain than long dreads and possess a trendy, urban, and modern appeal.
The close shave is a great hairstyle as it can be both laid-back and sophisticated.
If you're confident enough, pull off the total shave to look sexy and not worry about maintaining your hair.
Styling tips for children
Use age-appropriate styling products. Look for gentle shampoos and conditioners that are moisturizing and tear-free.
Keep a child's natural hair. Chemicals are too harsh for children, and here are some hairstyles that work well for children.

If you are styling a child's hair, the hair will look very pretty if ribbons are used as part of the braid, or use double ponytails at the sides of the head.
If the child prefers a single ponytail, use a cloth-covered rubber band to make the ponytail. Braid the ponytail, and add a pretty hair clip, barrette, flowers, or ribbons that match her clothes. Use heated curlers to create bangs to dress up this style.
Tools, accessories, and other tips to enhance your style
If you are styling an adult' s hair, heated curlers are an excellent way to style the hair. They come in a variety of sizes and lengths and can be purchased at your local beauty supply store. Heated curlers take about 20 minutes to use, so use them in the mornings before starting the day. Part the hair using the tail of a rat-tail comb, and apply the curler in a pattern that is pleasing to you.

For longer hair, you can put the curlers around the edges of the hair only, or use them to create bangs.
For shorter hair, it is best to use the curlers throughout the entire hair. Place curlers in straight lines from back to front. Once the curlers cool, remove them, and use a pick to gently move the hair into a pleasing style. Experiment with heated curlers until you find the best and most pleasing look.

A flat iron is another excellent styling tool to use with longer hair. Prior to each use of a flat iron, be sure hair is lightly oiled and moisturized. Starting from the back of hair and working forward, gently part the hair into 1 or 2 inch thick parts. Use the flat iron to straighten each section. Once all the hair is straight, it can be pulled back into a ponytail, or heated curlers can be applied to create soft and pretty curves on the ends.
The blow-dryer can be used with short, medium, and long hair as long as you don't use it often. It is a fast and easy way to dry your hair when you are pressed for time, and, if you use it after applying a protective oil, it can make hair feel soft.

Banana clips are excellent for styling hair which has been blow dried. Put the banana clip on the hair, and braid the back of the hair. Or, you can use one heated curler on the end. Ponytails also work well after blow- drying hair. For a more mature look, use a small heated curler to create sophisticated curls on each side of the head, right in front of the ear.

Twists – Depending on the texture of the hair and the amount of time you have, you can twist your hair. Clip or pin the ends of your locks while wet; dry hair under a hood dryer or leave overnight; and leave twists in or take twists out to create small, spiral curls. Some twists will hold for about two weeks (do not leave twists in the hair for more than two weeks or twists may become dreadlocks).
For very short hair or an afro, add pretty and decorative combs, hair clips, and artificial flowers to accentuate your style. Comb the sides back, and pin in place with hair clips. You can also part the hair in the middle from the forehead to the top of the head, comb downward from the part, and apply hair clips and flowers. For an elegant and polished look, use hair decorations that match the color of your clothing. Tiaras also look very pretty with afro styled hair when worn for special occasions.
When sleeping, make sure that you put on a satin cap on the hair so that it doesn't frizz or loosen curls. Leave the cap on overnight. If the satin cap causes excess perspiration, use a satin pillowcase instead. These are usually available in an array of colors in the bedding sections of department stores or at beauty supply stores.
Tips
Textured hair can be fragile, so be gentle when styling it.
Adding color such as browns, reds, or blondes to the ends of the hair can give any style a playful boost.
Warnings
If you have chemically-treated hair, always consult with your hairstylist before trying different products or hair-styling tools.
Always get chemical treatments at a salon, and always follow your hairstylists advice.
Things You'll Need
Moisturizing shampoo and conditioner
Natural oils and oil-based styling products
Microfiber towel
Hair decorations
Wide tooth comb
"Rat-tail" comb (comb with long handle)
"Ouchless" rubber band
Satin pillowcases or a satin cap
Sources and Citations
Article provided by wikiHow: | How to Style African American Hair
How to Style African American Hair